This blog is the second in a series and has kindly been provided by
Vanessa Corby
Professor Theory, History and Practice of Art
York St John University

The State and art & design education in England: Part One, 'Rip-Off Degrees', the poverty of expectations for the discipline and neoliberalism
When I say there is a poverty of expectations for art and design educational outcomes in this country, I'm not saying anything that the discipline doesn't already know. The present impoverishment of the National Curriculum and its effects were foretold in Bob and Roberta Smith's Letter to Michael Gove MP, 25 January 2011. After the publication of the Government White Paper, The Importance of Teaching (DfE 2010) the artist made an appeal to the Secretary of State for Education to 'rethink the role of creativity in society and realize innovation comes from optimism creativity risk taking and art'. It fell on deaf ears, however, and in July 2023 the British Prime Minister, Rishi Sunak took the latest in a long line of cheap swings at 'rip-off degrees' on Twitter (now X). As the Sector knows 'Mickey Mouse', 'Harry Potter' or 'Rip-Off' degrees are pretty much a euphemism for any qualification that's not from what the Government deems to be a proper university and/or a creative subject. The fact that the Prime Minister's press office felt the need to rely on graphic representation to hammer home his message (fig.1), in all probability an image crafted by a designer with a rip-off degree, is positively poetic. It's all too easy to proceed to a story of woe about how misunderstood the discipline is, how we too suffer from a 'deficit of credibility' (Fricker, 2007). As Catherine Soussloff (1990), Robert Hewison (2014) and Oli Mould (2018) have all argued society's present misunderstanding of 'creativity' has been centuries in the making. But part of my motivation for writing these blogs is that it's about time the sector took a long hard look at itself to consider what makes us so susceptible to attacks like Sunak's, so that we are better placed to defend the discipline and fight for the kind of education that young people deserve and need. Smith affirmed the need for optimism, a hope that to my way of thinking comes from the knowledge that art and design, at their core, are vehicles for social change. That capacity for social change was worth fighting for in 2011, but now I'd say fighting for it now is a matter of the utmost urgency.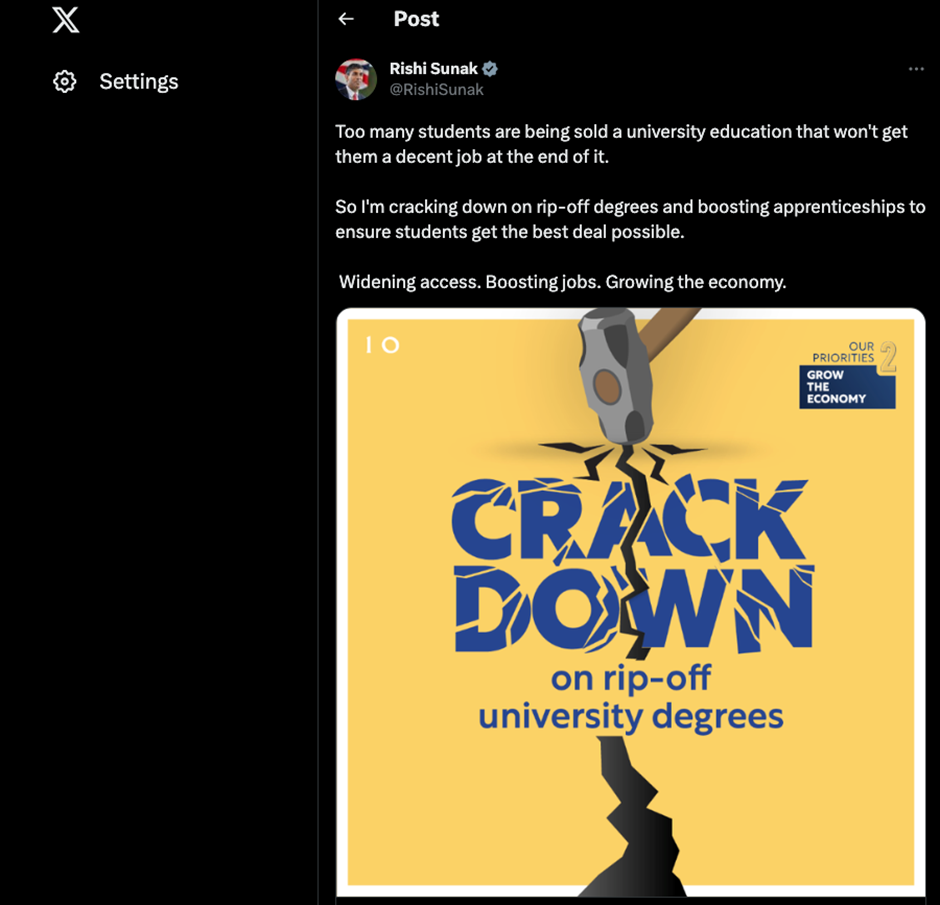 It is Summer 2023, and the Prime Minister thinks the English education system is broken. It is, just not in a way he's able or willing to acknowledge. As Stephen J. Ball argued nurseries, primary and secondary schools, colleges, and universities are compelled to perform like businesses contrary to the non-profit nature of their products; educated children, young people, and mature students (2017). Institutional profit, or just a balance sheet in the black is secured by an endless tranche of savings on essential services, staffing and resources. Success or failure in this competitive marketplace is a matter of institutional responsibility, just as the values of entrepreneurship and resilient self-interest that shape educational policy are devised solely to produce profitable
individuals who will work in the service of the Nation's economic growth. If this neoliberal model of education doesn't sound broken, I refer readers to the 'perfect storm' of chronic teacher shortages (Gould, 2023) that numbered 7,500 in the UK in June (Mitchell, 2023), and the 55% of current teachers who have actively sought to change or leave their current jobs due to an overwhelming workload and its impact on their mental health (Education Support, 2022); the 60% of UK academics aiming to quit HE in the next five years for the same reason (UCU, 2022), and the staggering 57% of students reporting a mental health issues (Lewis and Bolton, 2023).
Sunak's 'rip-off degrees' graphic leaves the viewer in no doubt that fulfilling the Government's ambition to 'Grow the Economy' entails smashing universities who stand as an obstacle to the Nation's interests. I read this polemical strategy through Herbert Read's last call for the country to reject a centralised, national education system, which is aptly titled The Redemption of the Robot (1970). Read drew on the writing of political philosopher William Godwin, who writing in 1797 cautioned that any national system of education would become inevitably aligned with the interests 'national government',
'Government will not fail to employ [education] to strengthen its hands and perpetuate its institutions […] their views as institutors of a system of education will not fail to be analogous to their views on the political capacity: the data upon which their conduct as statesmen is vindicated will be the data upon which their instructions are founded'.
With astounding acuity Godwin articulates an ideological loop, which illuminates how the present neoliberal government measures success on its own terms and blames individuals and institutions for its failure to safeguard education against the structural inequalities to which it is wilfully blind. Read and Godwin remind us, however, that the denigration and precarity of the disciplines of art and design are the result of the actions and ideas of more than one man, one government or one political party. Michael Gove wasn't so much the dastardly architect of English education's downfall, but the inheritor of a work in progress that had been supported by successive Conservative and Labour Governments over the course of more than twenty years. If we hold any hope of creating a more fit for purpose and inclusive system of art and design education, the Sector needs to address the complex, but surprisingly very happy marriage between the National Curriculum, neoliberal ideology, the Creative and Cultural Industries and the rhetoric of social mobility.
The state of education: working bibliography
Anon., (1992) Editorial, 'Art History in the National Curriculum', The Burlington Magazine, vol.134/No.1068, March. https://www.burlington.org.uk/archive/editorial/art-history-in-the-national-curriculum
Arnold, D. (1995) 'Rationality, Safety and Power: The Street Planning of Later Georgian London', The Georgian Group Journal, Vol.5.
Ball, S J. (2017), The education debate (Third Edition), (Polity Press, Bristol).
Chomsky, N. (1999) Profit over People: Neoliberalism and Global Order, Seven Stories Press, New York.
Crew, T. (2020) Higher education and Working-Class Academics: Precarity and Diversity in Academia, Palgrave Macmillan, (XXXX)
Duncan, C. & Wallach, A. (1980) 'The Universal Survey Museum', Art History, vol.3, No.4, December.
Durham, J. (1993) A Certain Lack of Coherence: Writings on Art and Cultural Politics, Kala Press, London.
Education Support, (2022) 'Teacher Wellbeing Index 20222: record numbers plan to leave profession as mental health suffers' https://www.educationsupport.org.uk/news-and-events/news/teacher-wellbeing-index-2022-record-numbers-plan-to-leave-profession-as-mental-health-suffers/
Fricker, M. (2007) Epistemic Injustice: Power and the Ethics of Knowing, (Oxford University Press)
Gould, M. (2023) 'Recruitment crisis intensifies as schools make 'reluctant' appointments, Times Educational Supplement Magazine, 8 June https://www.tes.com/magazine/news/general/teacher-recruitment-crisis-intensifies-schools-make-reluctant-job-appointments
Hewison, R. (2014) Cultural Capital: The Rise and Fall of Creative Britain, (Verso, London).
Ingold, T. (2011) The Perception of the Environment: Essays on Livelihood, Dwelling and Skill, Routledge, London)
Mansell, W. (2019) 'Ofsted plan to inspect 'cultural capital' in schools attacked as elitist', The Guardian, 3rd September.
Michaëlsson, M., Yuan, S., Melhus, H. et al. (2022) The impact and causal directions for the associations between diagnosis of ADHD, socioeconomic status, and intelligence by use of a bi-directional two-sample Mendelian randomization design. BMC Med 20, 106. https://doi.org/10.1186/s12916-022-02314-3
Mitchell, A. (2023) 'Headteachers warn UK facing 'dangerous' teacher shortage as recruitment crisis deepens', The Independent, Saturday 10 June, https://www.independent.co.uk/news/uk/teacher-recruitment-crisis-shortage-warning-b2349753.html
Mould, O. (2018) Against Creativity, (Verso, London).
Lewis, J. and Bolton, P. (2023) 'Research Briefing: Student mental health in England: Statistics, policy, and guidance' House of Commons Library, Tuesday, 30 May 2023 https://commonslibrary.parliament.uk/research-briefings/cbp-8593/
Pollock, G. (1995) 'Jackson Pollock and the myth of photography', in Orton, F. & Pollock G. Avant-Gardes and Partisans Re-Viewed: Social History of Art, Manchester University Press.
Read, H. (1969) Art and Alienation: The Role of the Artist in Society, Viking Press, New York.
Read, H. (1970 [1966]) The Redemption of the Robot: My Encounter with Education through Art, Faber and Faber, London.
Reay, D. (2017) Miseducation: Inequality, education, and the working classes, (Polity Press, Bristol).
Rosenberg, H. (1972) Act and the Actor: Making the Self, World Publishing Group, New York.
Soussloff, C. (1990) 'Lives of poets and painters in the Renaissance' Word & Image: A journal of Verbal/Visual Enquiry, vol.6. No. 2.
Steers, J. (2014) 'Reforming the school curriculum and assessment in England to match the best in the world – a cautionary tale', The International Journal of Art & Design Education, vol.33. no.1. https://www.researchgate.net/publication/264717577_Reforming_the_School_Curriculum_and_Assessment_in_England_to_Match_the_Best_in_the_World_-_A_Cautionary_Tale
Sunak, R. (2023) 'Crack down on Rip-Off Degrees' X, 17 July https://twitter.com/RishiSunak/status/1680848107708338177
Uboldi, A. (2017) 'Disadvantaged students and art school: the outcasts on theinside between acquiescence and contestation', Contemporary Social Science: Journal of the Academy of Social Sciences, 12:3-4, 297-315.
University and College Union (UCU). (2022) 'Two-thirds of university staff are considering leaving the sector', https://www.ucu.org.uk/article/12212/Two-thirds-of-university-staff-considering-leaving-sector-new-report-reveals#:~:text=UCU%20warned%20of%20a%20staff,deteriorating%20pay%20and%20working%20conditions