CHEAD is delighted to announce a new partnership with Fashion Academics Creating Equality (FACE) which will facilitate a two-way exchange of resources. Recently, FACE took part in a CHEAD members event Creative Resilience: Art Adapts and have posted a blog piece reflecting on the event and the aims and future plans of FACE which we have reproduced here:
Power and Privilege
1st December 2020
One of the outstanding themes of 2020 has been the recognition that education has a responsibility to prioritise race equality and anti-racist action.
Once we accept (and stop denying) that inherent in our socialisation around identity and our experience of the world, is a white-centric education which actively excludes diverse race perspectives and ignores the clear inequalities that arise as a result of this practice, we will achieve a position of truth and clarity.
This together with dismantling the mechanics for preventing educators (from a broader range of race, class and identity) to occupy leadership positions, must also be addressed so we can move forward.
FACE asks every academic to question current learning environments that deliver limited race perspectives.
Current systems have delivered white students and academics oblivious to their numerous privileges as they advance through the system. Wile reports show Black students and academics remain undermined and discounted. Reduced opportunities and progression for both Black academics and learners is a fact.
Fashion Academics Creating Equality (FACE) is a challenger, working with members, non-members and partners to bring about REAL progress. One way is hosting events for education of those in academia and the creative world through FACE Community gatherings. See a report on our latest speakeasy dedicated to Critical Race Theory (CRT).
Recently as part of the Creative Resilience: Art Adapts event, on 19 November, hosted by the Council for Higher Education in Art and Design (CHEAD) and chaired by Professor Anita Taylor, FACE co-founders Pascal Matthias, Sharon Lloyd, Andrew Ibi and member Caryn Franklin MBE, outlined a strategy for change.
"The FACE presentation was a vital part of our membership focussed event Creative Resilience: Art Adapts. FACE can inform and drive us to face up to and remedy racism across our sector as we strive to promote dialogue, reflection and action towards structural and sustainable change and to advocate for social justice and antiracism across arts, media and design creative disciplines within higher education."
Sandra Booth | Director of Policy and External Relations (CHEAD)
The goal of FACE – to embed culture and diverse perspectives into the curriculum, while demanding acknowledgement of the contribution of Black culture and creativity, to history, society and human advancement, was well received. This targeted disruption of our antiquated educational norms requires take up by institutions and individual academics working as a collective. Insiders of all ethnicities and races must come together.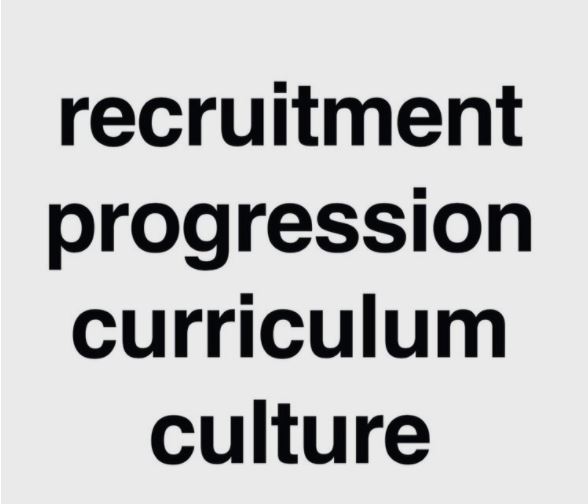 The four pillars of race equality. Addressing each of these areas creates immediate change.
Having outlined its aims, FACE and has so far reached out to institutions such as Graduate Fashion Week (GFF) with its 38 institutional member cohort; to the National Student Survey (NSS) with over 300,000 students responding each year and the Office for Students (OfS) now currently undergoing review to make it fit for purpose; FACE believes adding race and culture to the evaluation metrics is a vital addition. FACE has also reached out to CHEAD.
"We need to be challenged through meaningful partnerships and by working with leading activist organisations, including FACE, who are empowering us to have open and honest conversations which will challenge race inequality across our 66 member institutions".
Sandra Booth | Director of Policy and External Relations (CHEAD)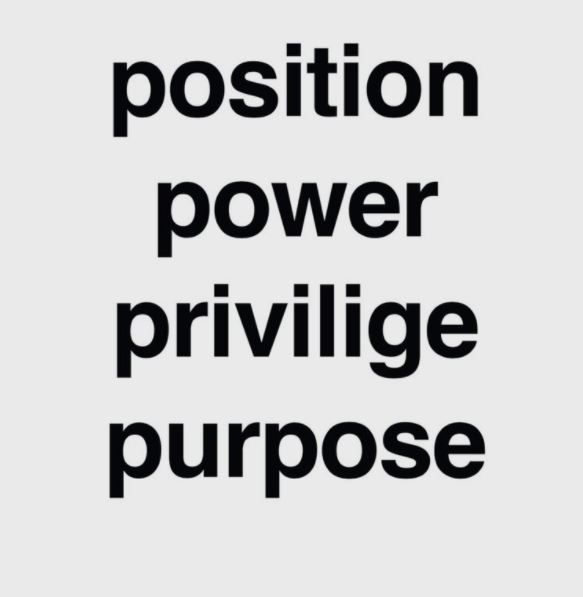 It starts with intention. Harness your privilege to speak out for others. And so we are thrilled to announce a new partnership which will facilitate a two-way exchange of resources. Using the CHEAD platform, which reaches 66 institutional members and 700+ academics, and interacting with its national events schedule, FACE can reach academics with an inclusive invite to join us in change.
FACE looks forward to contributing at further CHEAD events. To those who ask what can each of us do from within our organisations now? FACE points to the four pillars of Recruitment, Progression, Curriculum and Culture which must be embedded through Position, Power Privilege and Purpose. It starts with energised attention and then transformational intention from us all. FACE Is thrilled to work with CHEAD, to grow it's community to ensure that advocates and disruptors are at every level and every corner of education.
Text Caryn Franklin
Further reading co-founder Andrew Ibi on why FACE is needed
Further reading co-founder Pascal Matthias on using our voices
Further reading co-founder Sharon Lloyd on why language facilitates action