The Ignorant Art School: Five Sit-ins towards Creative Emancipation
This session will showcase Sit- in # 1: Ruth Ewan: We Could Have Been Anything That We Wanted to Be and It's Not Too Late to Change, part of a major five-chapter exhibition and event project The Ignorant Art School: Five Sit-ins towards Creative Emancipation held at the Cooper Gallery Duncan of Jordanstone College of Art and Design, University of Dundee.
Questioning what art education is and whom it serves, The Ignorant Art School brings together artists, designers, educators, activists, culture workers, students and other publics, to creatively re-imagine and co-constitute a collaborative and decolonised blueprint for a socially transformative art education that opens towards an emancipated future.
Repurposing equality as a practice rather than an ideal, The Ignorant Art School examines the histories and future possibilities of art education. Directed towards a revolutionary and creative emancipation The Ignorant Art School celebrates feminist and social activist bell hooks' declaration of "education as the practice of freedom" by building communities of resistance and care.
Composed as five 'Sit-ins' The Ignorant Art School adopts the activist tactic of occupying institutional space as a critical and creative attitude and praxis to transform the Cooper Gallery into a laboratory for radical, ethical and accessible pedagogies for the many.
Rekindling the political turmoil and desires for emancipation set alight in Dundee by the French Revolution, Sit-in #1 of The Ignorant Art School by Ruth Ewan proposes 'we could have been anything that we wanted to be and it's not too late to change.'
Traversing multiple histories, alternative social structures and popular culture, the exhibition and online Sit-in Curriculum #1 radicalises imagination as a revolutionary act to reveal the urgent cogency of collaborative learning and transgressive reimagining as the world struggles towards a 'new normal.'
The fulcrum underscoring Sit-in #1 are Ewan's decimal clock and perpetual calendar installations. Inspired by these novel and disruptive modes of marking time first introduced during the French Revolution, Sit-in Curriculum #1 adopts radical forms of collaborative learning and grassroots knowledge creation. Featuring amongst others 'An Optimism Class', 'A Sensuous Knowledge Class', 'A Play Class', 'A Strike Class' and a 'A Radical Pub Crawl', Sit-in Curriculum #1 deploys imagination in all its rich and revolutionary power.
Read the press release here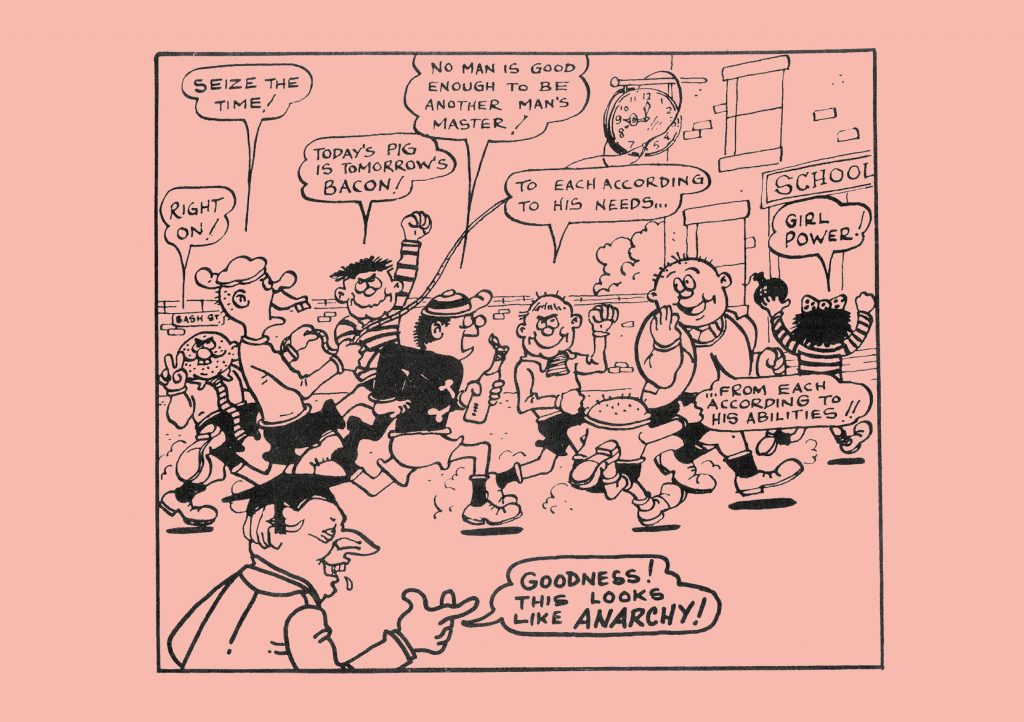 Image: from The Great Brain Robbery, 1971 by Keith Paton published by Moss Side Press Ltd.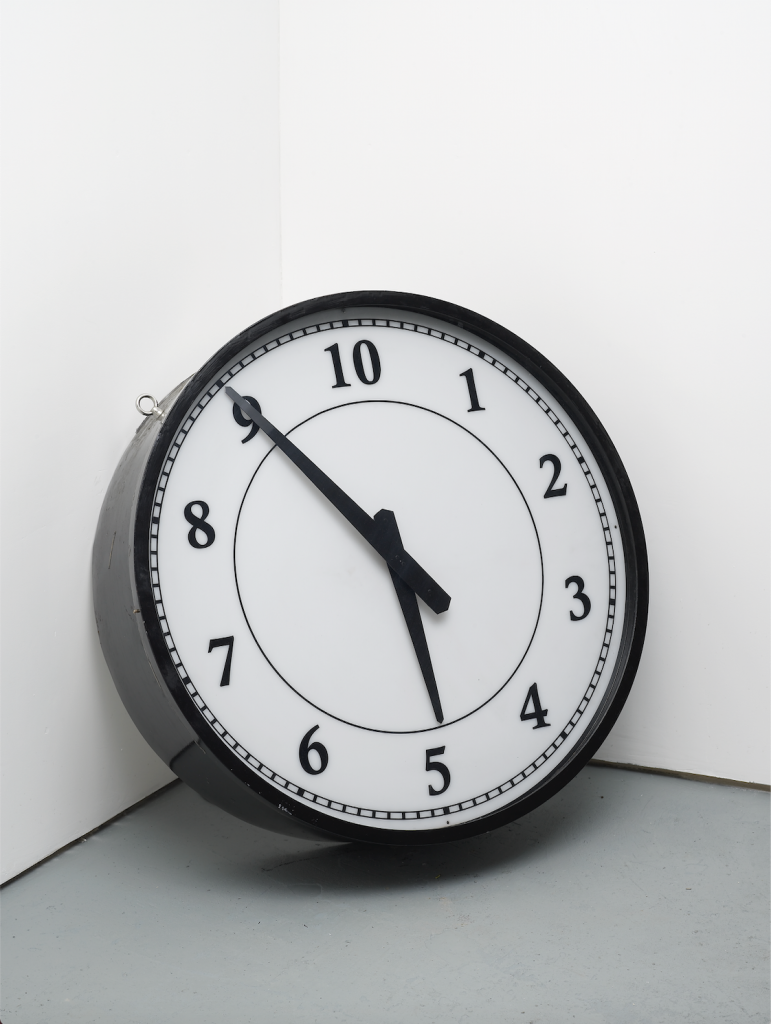 Ruth Ewan, We Could Have Been Anything That We Wanted to Be, 2011. Photo: Andy Keate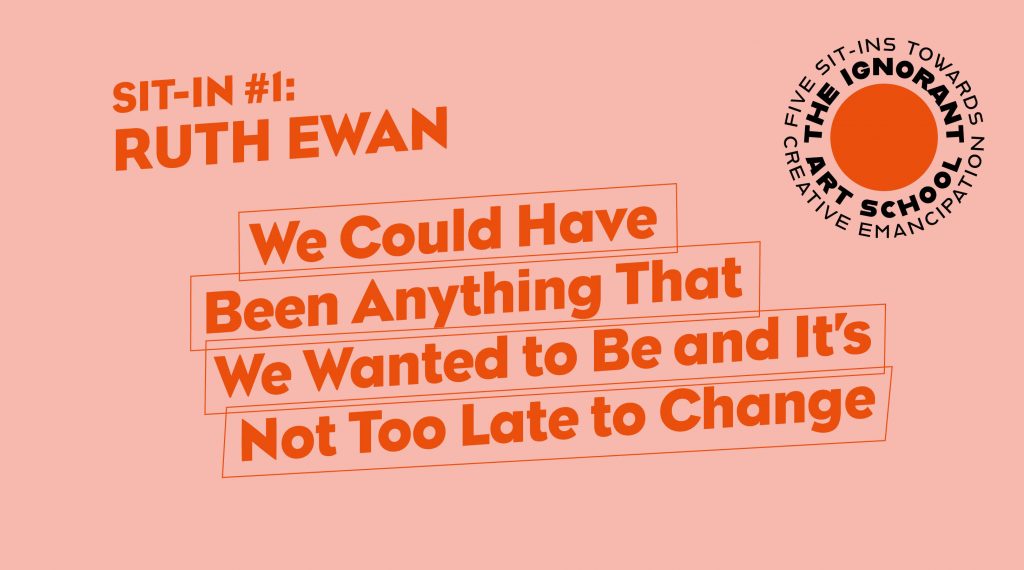 Dates & times
17th March 2021
15:30 pm –16:30 pm
Ruth Ewan
Artist
Ruth Ewan is an internationally celebrated artist whose research-led and critically engaged practice has drawn attention within contemporary art and socio-political history. Engaging with the circulation of radical ideas and social movements, her work explores the processes by which ideas take form and spread from individuals to society. Ewan's work is recognised internationally and she has shown extensively at major venues including; Edinburgh Art Festival (2018 & 2020); Pitzhanger Gallery (2020); Yorkshire Sculpture Park (2019); CAPC, Bordeux (2019); Musée national de l'histoire de l'immigration, Paris (2019); Victoria and Albert Museum (2018); 32nd São Paulo Biennial (2016); Camden Arts Centre, London (2015); Tate Britain (2009 & 2014); Kunsthal Charlottenborg, Copenhagen, Glasgow International (2012); Dundee Contemporary Arts and Centro Andaluz de Arte Contemporáneo, Sevilla (2011); The Louisiana Museum of Modern Art, Humlebæk (2010); the New Museum, New York (2009). She has realised projects for The High Line, New York (2019); Glasgow Women's Library (2018); Create, London (2012); Art on the Underground (2011); Frieze Projects (2009) and Artangel (2007&2013). In 2016 she was awarded the Arts Foundation Yoma Sasburg Award for Art in Urban Space. ruthewan.com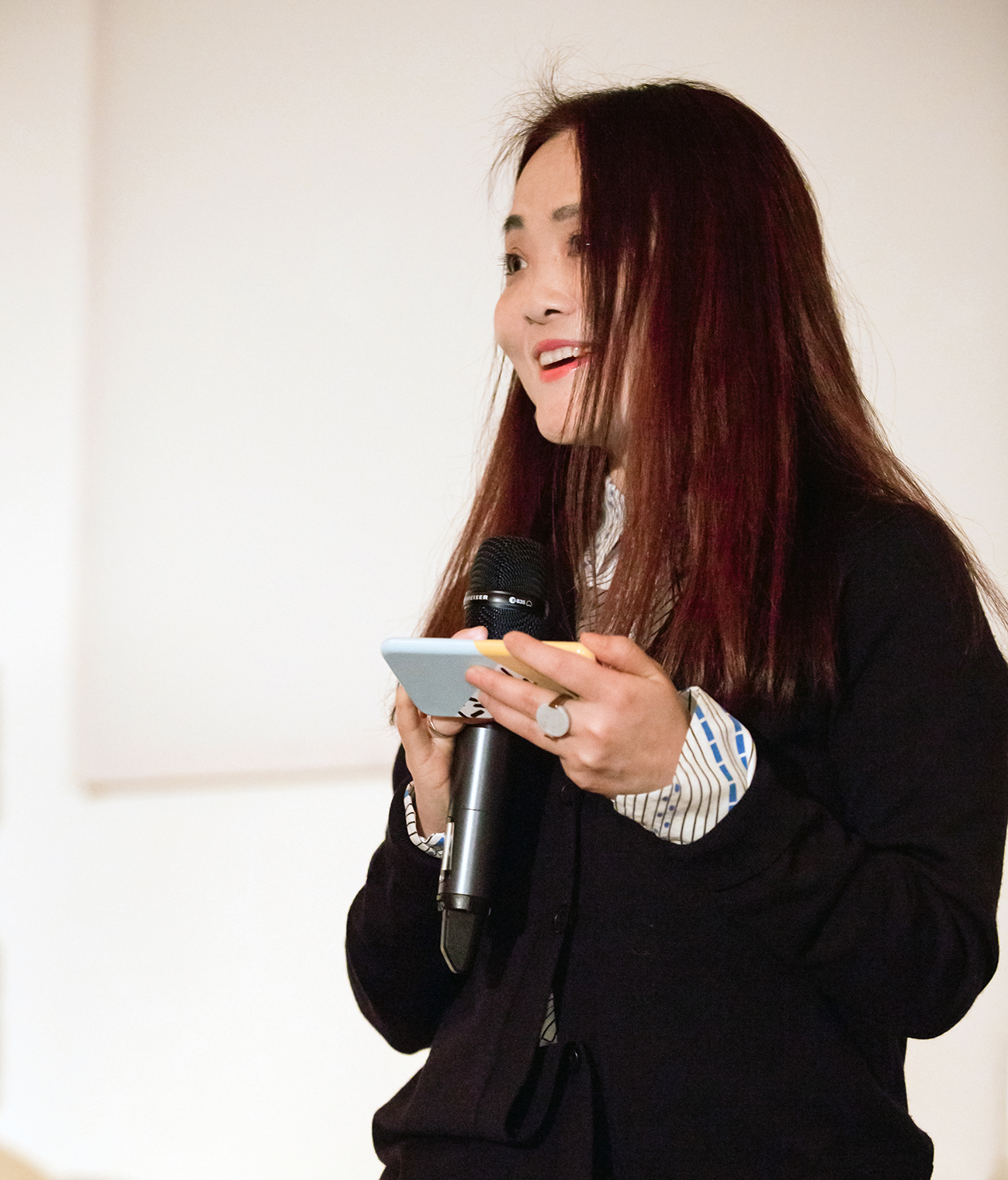 Sophia Yadong Hao
Principal Curator, Cooper Gallery Duncan of Jordanstone College of Art and Design, University of Dundee
Sophia Yadong Hao is a curator, writer and editor who situates the curatorial as a mode of critical inquiry directly engaging with culture and the political as an open question. Hao is currently Principal Curator of Cooper Gallery at Duncan of Jordanstone College of Art and Design, University of Dundee. Hao has curated contemporary art exhibitions and events internationally and is the founding editor of the art journal &labels. Her publications include Of Other Spaces: Where Does Gesture Become Event? (Sternberg Press, 2019), Hubs and Fictions: On Current Art and Imported Remoteness (co-edited with Edgar Schmitz, Sternberg Press, 2016), A CUT A SCRATCH A SCORE (2015) and NOTES on a return (2010). Hao is a committee member of British Art Network Steering Committee (Tate Britain and Paul Mellon Centre), a member of Art 360 Advisory Group, and a member of Live Art Sector Review Steering Group (Arts Council England).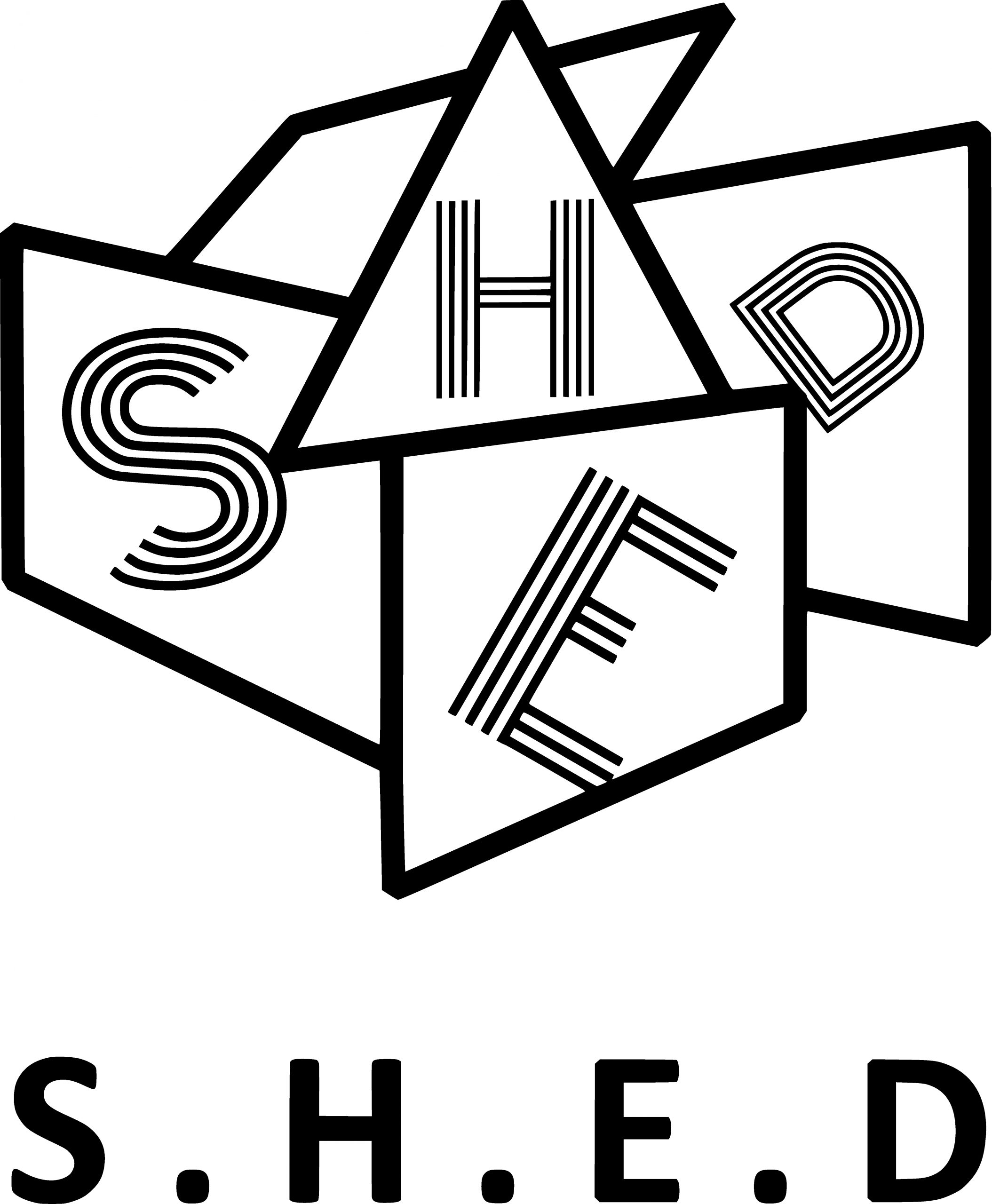 S.H.E.D – Social Higher Education Depot has taken the premise of a garden shed and created a mobile, reconfigurable space for the shedding of preconceptions about people and place. S.H.E.D has over 11 designs, that were developed with the aim of supporting co-creative practice as art-making that invites participation and explores real issues people want to discuss.
 It is positioned as a curatorial, consultation, lab and public space. S.H.E.D combines design and dialogue theory.
Shortlisted for Shed of the Year 'Unexpected Category' 2020
Finalist, Green Gown Awards 'Benefiting Society' Category, 2020
Follow S.H.E.D's work on Twitter @Shed_UK and Dr Jones's research into dialogue at @InDialogueUK.
S.H.E.D is run by:
CEO / Creative Director – Dr Rhiannon Jones
Business Development Director – Dr Victoria Barker
Operations Director – Sarah Webb